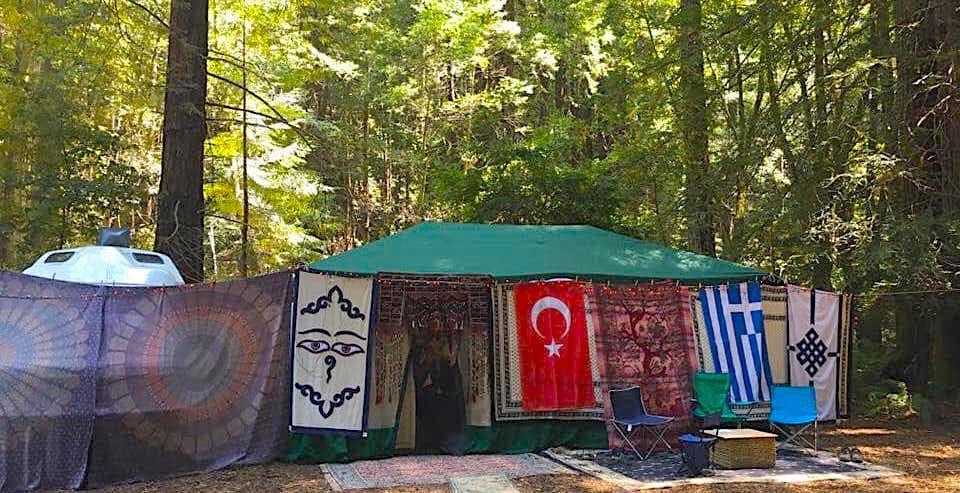 The theme of our third Virtual Cabaret? Camp Three! Enjoy performances by Wael Kakish, David Brown (with Johnny Quest), Sinan Erdemsel, Wade Evans, Ernie Fischbach (with Melissa Fischbach), and Marina Zekley and Lila Burns at 7 pm on Friday, October 9. Between performances, we'll reveal the recipe and instructions for making Nanaimo Bars, a Lark Camp coffeehouse treat, and Maxine Meltzer's puppets will make an appearance. Tune in via the Lark Camp Facebook Group or YouTube channel.
We're already planning Virtual Cabaret #4, focusing on – you guessed it – Camp Four: The Bus. Do you have any fun footage you'd like us to include? Or maybe you have a bus-related song, joke, or story you acquired while riding the bus that you'd like to pre-record for the show. If so, here's the form for your submission.
LARK 2021
As mentioned in our last newsletter, we're moving optimistically forward toward Lark 2021, but in such a way that if we have to skip another Lark, we'll be set up for an easy transition to a virtual summer. Be sure to keep July 30 – August 7 open on your calendar! PLEASE NOTE: Registration for Lark 2021 will open in mid-January, not in November as it usually does. 
NEW NEWSLETTER FORMAT
You may have noticed that our September newsletter looked a bit different. That's because we're trying out a service called Constant Contact. Here is some useful info:Some newsletters are automatically directed to your Trash or Spam folder. To avoid this, add registration@larkcamp.org to your address book.You can update your information by clicking on "Update Profile" at the bottom of the newsletter.If you want to help an interested friend receive the newsletter, send them to the home page of our website to sign up. Don't want the newsletter cluttering up your mailbox? It's easy to unsubscribe! Click on the Unsubscribe button at the bottom of the newsletter, and your name will automatically be taken off our mailing list. (Reporting us as "Spam" signals Constant Contact that we don't have your permission to include you on our mailing list, and it's a strike against us.)
DONATE VIA AMAZON
Did you know a percentage of what you spend on Amazon can be directed to a charitable organization? Lark Traditional Arts can be that organization! Follow this link to set us up as your choice on Amazon!