What is Lark Camp?
It's an unparalleled weeklong world music and dance event that takes place in three different camping areas within one park – The Mendocino Woodlands. Each has a musical theme, and hosts workshops, sessions, and dances. Campers choose one of the camps to "live in" for the week, but may attend workshops and events in any camp, traveling by free shuttle, walking, or your own bicycle. Most campers prefer to camp for the whole week, but you may also come for "half-camp", either the first four days, or the second four days.
Workshops are offered for a variety of levels for adults and young adults; families with young supervised children are welcome. In Camp One, there are kids' programs that include instrument making, art projects, and a wonderful Kid's Play that is rehearsed, costumed, and performed on the last night of camp. (The Mendocino Woodlands Camp Association also offers environmental education programs for children.)
Camp Themes
There are three camps divided roughly by the following criteria. Each has workshops, sessions, dances, and events related to these themes.
Camp One
IRELAND, BRITISH ISLES, GREECE, EASTERN EUROPE, AND SWEDEN
Camp Two
LATIN AMERICA, NORTH AMERICA, SPAIN, AND FRANCE
Camp Three
THE MIDDLE EAST, GREECE, ASIA, AND AFRICA
Decide which camp is for you based on your workshop preferences:
Check out the list of workshops & instructors. What interests you? A particular instrument, or style of music? If you lean toward one style, you might like to choose the camp dedicated to that theme. (Hint: The themes are listed above!)
Then choose how you'll camp:
The Mendocino Woodlands is a WPA-era campground with rustic wooden cabins. Each of the three camps has cabins or tent-cabins and in most cases are shared by four people. All are equipped with cots and mattresses, but no bedding and none have electricity. Each camp has designated tent camping areas for a pre-assigned number of tents. Each camp has limited, designated space for camping vehicles.
Getting to Lark Camp
Lark Camp's weeklong home is the Mendocino Woodlands State Park in California. It is located about nine miles east of the town of Mendocino via Little Lake Road.
Camp Layout at the Mendocino Woodlands
Lark Camp Rules & Restrictions
CODE OF CONDUCT — Lark Camp does not tolerate any form of harassment. Please read our code of conduct so you understand what constitutes harassment and how to help anyone who is being harassed.
THE CAMP ONE MEADOW (Tent Area A) IS THE EMERGENCY HELICOPTER LANDING AREA — In the unlikely event of a medical air evacuation, it has to be cleared. Available campers/staff must pull all tents and their contents to the side of the Meadow within 15 minutes.
STATE PARK FIRE RULES — You may only cook if you're camping in a vehicle with a built-in kitchen. NO portable white gas or propane stoves or lanterns are allowed in the park. NO cooking is allowed in cabins. These are State Park fire rules; if you break them, you'll pay a $250 fine and be ejected from the campground!
ALCOHOL, SMOKING, & DRUGS — You may only bring alcoholic beverages for your own consumption if you are 21 or over. All smoking or vaping is strictly allowed ​only​ in designated areas. If a participant is found taking, selling, or possessing any illegal drug or substance, or if they supply such drugs, substances, or alcohol to minors, they may be fined and/or expelled from the event without warning or refund. LTA will report such action to police if required by law. Cannabis clarification—In California or California State Parks, it is illegal to use cannabis in any form in public. Legal cannabis may be consumed only by flame free vaping or edibles, in private lodging spaces. It is illegal for anyone under 21 to use or possess cannabis.
FAQ – Frequently Asked Questions
Is Lark Camp family-friendly?
Workshops are offered for a variety of experience levels for adults and young adults; families with young, supervised children are welcome. In Camp One, there are kids' programs that include instrument making, art projects, and a wonderful Kid's Play that is rehearsed, costumed, and performed on the last night of camp. The Mendocino Woodlands Camp Association also offers environmental education programs for children.
Can minors attend?
Minors (anyone under 18) must attend Lark Camp with a parent or guardian who is at least 21 years old. Special paperwork is required for minors who attend with a guardian rather than a parent or legal guardian. It must be filled out by the parent, guardian, and minor.
Are my fees refundable?
Deposit payments are not refundable. Please consider purchasing trip insurance if something could prevent your attendance. We cannot refund your deposit (see Register for more information), you cannot sell the deposit to any other camper, and it cannot be applied to make up the balance on another deposit for a friend or family member. Deposits cannot carry over to the following year.
Is there phone reception? Wifi? Electricity?
Phone receptivity is extremely limited at Lark Camp; some Verizon customers may be able to get a phone call out, but even then, there's not enough reception to read email. There is NO Wifi at all. There are outlets in most camp common buildings (but not cabins) where you can charge a device, but they're popular; some folks bring battery chargers or solar chargers to avoid discharging devices that double as recorders. The payphones in Camps One and Two have been removed. (The Administration Office has resources for real emergencies.)
Can I carpool to Lark Camp?
The Mendocino Woodlands asks us to carpool when possible to reduce the number of cars in the park. If you have need of a ride or have one to offer, you can use the Lark Camp Group page on Facebook to make contact with other Larkies.
What discomforts & health hazards should I know about?
Life at Lark Camp is rustic and hilly. The Mendocino Woodlands have mosquitoes, yellow jackets, dust, and poison oak. Bring whatever repellent works best for you, allergy medication if you have dust allergies, and learn how to identify poison oak. Nothing in the State Park is paved – be prudent and bring comfortable footwear for walking on dirt paths! BRING A FLASHLIGHT OR HEADLAMP! Contact registration@larkcamp.org if you have questions.
Is it true that I can get a massage at camp?
Sadly, not this year. Most years, several fine certified massage therapists are able to offer massage at camp; we look forward to trying to get them to Lark Camp in 2024.
What if I can't afford camp?
We offer a limited number of work-trade positions – where campers work in exchange for some portion of their camp fees. We have positions on the registration crew, setup and teardown crews, or cleaning crew. Contact volunteer@larkcamp.org if this interests you for more information. You can reduce meal cost – trade work for eats in one of our kitchens doing food preparation, service, or dishwashing. Contact larkkitchen@gmail.com for more information.
Lark Traditional Arts
In 2019, Lark Traditional Arts was formed as a nonprofit organization to manage Lark Camp. Thanks to its Board of Directors, you can look forward to many more years of music in the redwood forest of the Mendocino Woodlands! Donations to Lark Traditional Arts will help the organization build programs for scholarships and bring instructors from far away to enrich our workshop program.
Mendocino Woodlands
Located in traditional Pomo territory near the village site Bu'ldam, Mendocino Woodlands National Historic Landmark State Park is a year-round group camping facility and environmental education center nestled in the heart of the redwood forest, just northeast of the town of Mendocino. The Mendocino Woodlands Camp Association nonprofit runs the campground; its mission is to ensure a Mendocino Woodlands experience for future generations.
History of Lark Camp
When Mickie Zekley's annual music party grew to more than a hundred guests and outgrew his house, he rented Camp One at the Mendocino Woodlands for a weekend, and shared the cost with his friends. Starting in 1979, the "party" gradually took on an educational bent, and grew to occupy all three campgrounds at the Woodlands – a National Historic Landmark with rustic redwood cabins built during the WPA era.
What started as a Celtic and American flavored musical weekend retreat, evolved into a weeklong, educational "world music" event that includes traditional dance, instrumental, and vocal music. For many years, Mickie also ran Lark in the Morning, an instrument store located in Mendocino and San Francisco that boasted an exhaustive catalog of instruments from around the world. Mickie no longer owns Lark in the Morning – it is now located in Berkeley, CA – but our camp borrowed its name from the store. Most recently it has become known simply as Lark Camp.
Mickie always kept a Lark Camp Music Library. You can find recent PDFs of music taught in our workshops.
Allen 'Mickie' Zekley, born October 19, 1946, passed away peacefully on October 28, 2022 at Saint Helena Hospital in California. He is survived by his wife Elizabeth, his adult children Marina and Corwin, his ex-wife Kristina Almquist, as well as many, many hundreds of admirers and friend who will remain ever grateful for the gifts he so generously gave during his life. You can read about Mickie's life in his blog, Adventures of a Street Musician.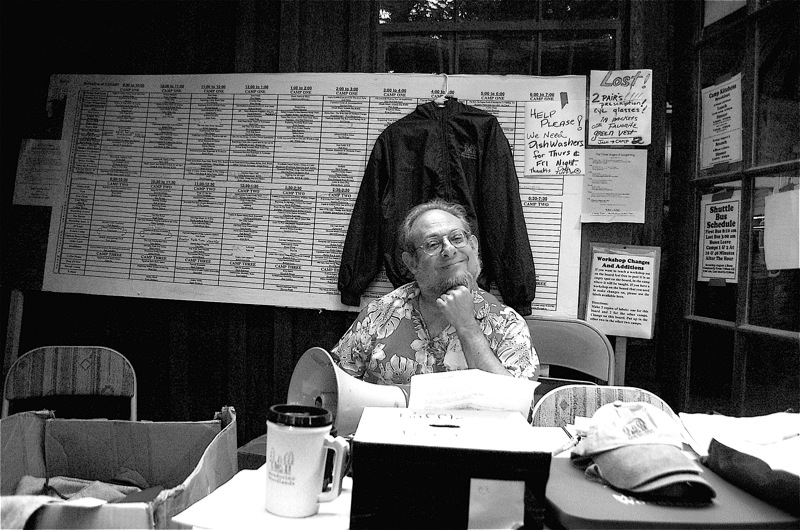 Each year, we have a special commemorative Lark Camp T-shirt. Jack Gilder has once again created a shirt for our 2023 camp "They Came to Lark Camp" featuring little space aliens arriving to join in our fun. Jenette Sellin designed the shirt you see below center for 2022, and it is so expressive of the Mendocino Woodlands, you'll immediately see why we like it. We're also featuring a favorite "classic", also by Jack Gilder—the Larkistan shirt that you see below right.
The shirts come in a variety of styles and colors. Using a method called DTG (direct to garment) printing, these shirts are made for your order by a company called Printful, and they ship it directly to you. Check us out on Etsy.